Tire Collection & Recycling
About Tire Collection & Recycling
Recycling – Global environment as our top priority
The total amount of waste tire in Japan is about 1million tons (100 million tires) per year We Kokubu Shokai is a leading tire recycling company, and recycle worn tires in three methods

Reuse

Some used tires removed from cars or tracks are reused as retread. Although part of such tires are for retread in Japan, many of them are reused overseas We supply reusable tires as tire casings for retread to every retread tire makers all over the world including Japan of course. Also, used tires are reused as fenders of harbors and as play equipment in Park etc.
Material recycling

Rubber and steel are sorted out from used tires to reuse as low material. We contribute to recycling society by recycling resource.
Thermal recycling

We are working at cutting process of tire for alternative fuel, in order to carry out thermal utilization by used tire. Alternative fuel tire chips processed by our company is utilized as thermal energy in cement companies, paper manufacturers and steel companies.
Process – How Waste Tires Recycled
Cutting & Shredding Process
We, Kokubu Shokai Collects Waste Tires in Japan
We collect waste tires happened from tire makers and car related stores etc. in eastern part of Japan from Tokyo to Hokkaido. We own collecting specialized vehicles in size of 2 to 10 tons according to every customers' needs, from small lot to large scale illegal dumping, and carry such waste tires safely and surely to our own processing factory.
Truck & Bus Tires Value Assessment
As we do the purchase assessment of used tire for retread, and sort into those valued tires and waste tires at the same time, so you can wipe out your tire yards at once. Those valued tires are supplied to the retread tire manufacturers as tire casings.
Electronic Manifest System
Since information processing center manages and saves electronic manifest, preservation by its company will not be necessary and it also does not have fear of loss. Moreover, you can grasp processing status easily and you do not need to make administrative report.
List of industrial waste collection and transportation vehicles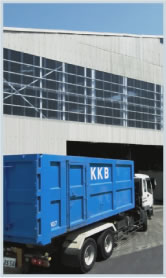 We own overwhelming number of transportation vehicles, We are collecting & transporting waste tires quickly and safely.
Delivery Vehicles
Headquarters – 43 units
Tohoku Branch – 6 units
Hokkaido Branch – 4 units
List of our main clients
Bridgestone Co., Ltd.
Yokohama Rubber Co., Ltd.
Toyo Tire & Rubber Co., Ltd.
Bridgestone Tire Japan Co., Ltd.
Bridgestone Retail Japan Co., Ltd.
Gunma BS Co., Ltd.
Bridgestone Tire Takasaki Sales Co., Ltd.
Dunlop Tire Chuo Co., Ltd.
Dunlop Tire Kanto Co., Ltd.
Yokohama Tire Japan Co., Ltd.
Toyo Tire Japan Co., Ltd.
Bridgestone Construction Tire Sales Co., Ltd.
Yokohama Tire Construction Machinery Tire Service Co., Ltd.
– and more than 3000companies
Solution: Recycling is Global Issue
Reuse in Original Form & Material Recycling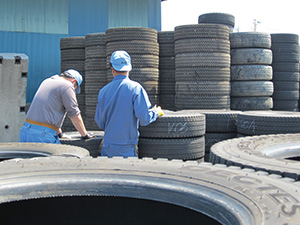 "Resource & Recycling" is critical global issue now. We inspect and sort good quality used tires and supply to retread tire manufacturers as tire casings all over the world. Moreover, used tires are used effectively as fenders in harbor, play equipment in park, etc. Besides such reuse in original forms, we do decompose waste tires into rubber and steel. Rubber is crushed into rubber powder (granular or powder) and reused such as reproduced rubber materials (tire material, belt, rubber board, etc.), various rubber products for industrial use, elasticity rubber pavement material (golf course, tennis court, promenade, etc.) and permeable pavement materials.
We deal with;
Waste Tires (from bicycles to Specialized Industrial vehicles)
Waste Rubbers
Tire Wheels
Pumping Hose
Buffing Dust
Conveyor Belt
Caterpillers
Tire Peelings
Resource as new energy. We are working to make effective use of waste tires.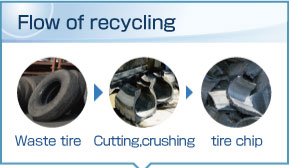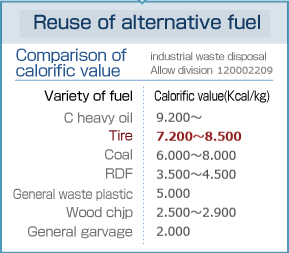 Thermal Recycling
Those collected waste tires are to cut and/or crush at our factories, then to be reused as alternative fuels after processing.
We can process various kinds of tires from bicycle tires to large industrial tires. Processed waste tires are to be supplied to specified processing places nation wide, and are used as alternative fuel for thermal energy at the various business factories such as paper manufacturing factory, etc.
We Kokubu Shokai engage in proper processing from collection, transport to intermediates treatment while using waste tire manifest system.
Thus, we can achieve seamless and clear process of waste tires.
Our Clients
Taiheiyo Cement Corporation / Mitsubishi Materials Corporation / Hirohata Plant of Nippon Steel Corporation / Akita Plant of Nippon Paper Industrial Co.,Ltd. / Hachinoe Plant of Mitsubishi Paper Mills / Nichinan Plant of Oji Paper Co.,Ltd. / Iwanuma Plant of Nippon Paper Industrial Co.,Ltd. / Fuji Plant of Nippon Paper Industrial Co.,Ltd. / Tochigi Plant of Bridgestone Co.,Ltd. / Futatsuka Plant of Chuetsu Pulp Co.,Ltd.
Our Factories
Headquarters Plant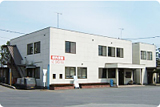 Address
2643-1 Magechi, Kumagaya, Saitama Prefecture, Japan
Area
20,790 square meters
Range of work
・Crushing : waste plastic (limitation on synthetic rubber)
・Cutting : waste plastic (limitation on synthetic rubber)
・Compression : waste metal (limitation on unavailable wheel)
Facility & capacity
Crushing facility
1 Single-shaft shear type crushier 16.80t/day
Cutting facility
1 Extra Large tire cutting machine (OTR) 13.33t/day
4 Large tire cutting machines (LT/TB) 89.28t/day
1 Small tire cutting machine (PC/MC) 60.00t/day
3 Cutting machines (PC/MC) 15.67t/day
1 Horizontal slicing machine 18.60t/day
Pressure facility
1 Wheel separator (pre-processing equipment) 30.00t/day
total (12units) 243.68t/day
2nd factory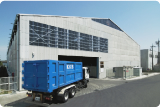 | | |
| --- | --- |
| Address | 3714-4, magechi, natsume, Kumagaya city, Saitama, Japan |
| Area | 5,363 square meters |
| Crushing | waste plastic (limitation on synthetic rubber) |
| Crushing facility | two shafts crushing machine・・・2units 288.00tons/day |
Tohoku Factory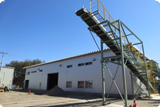 Address
1-35, Yamada, Funaoka, Shibata-machi, Shibata-gun Miyagi, Japan
Area
9,029.34㎡
Crushing Facility
1 Two-shaft shear type crusher 120.00t/day
Cutting Facility
1 Pre Processing Equipment 6.00t/day
Total (2 units) 126.00t/day
Hokkaido Factory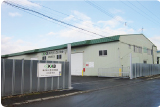 Address
1034-9 Kamiosatsu, Chitose, Hokkaido, Japan
Area
15,430㎡
Crushing Equipment
1 single-shaft shear type crusher 43.36t/day
1 16-segment Shear type crusher 26.88t/day
Cutting Equipment
1 Tire halving machine 27.20t/day
1 Horizontal slicing machine 4.80t/day
Pressure/Separation Equipment
1 Wheel separator 5.20t/day
1 Beed separator 2.56t/day
Total (6 units) 110.00tons/day